Commercial School Furnishings for K-12
At the end of each summer, the majority of school facilities will find themselves counting down the days 'til the first school bell welcomes in a new academic year of learning initiatives. For local school administrators, maintenance and replacement of existing site furnishings is a crucial priority to an upcoming and flawless school year. Efficiently planning school grounds for outdoor learning and activities is just as important as for indoor learning curriculums. It's inevitable that site furnishings will eventually need to be restructured or replaced. When this need arises, creating an ideal space that is as much instructive as it is entertaining can be a big difference between simple outdoor play areas and ones that encourage stronger social skills and improved creative development.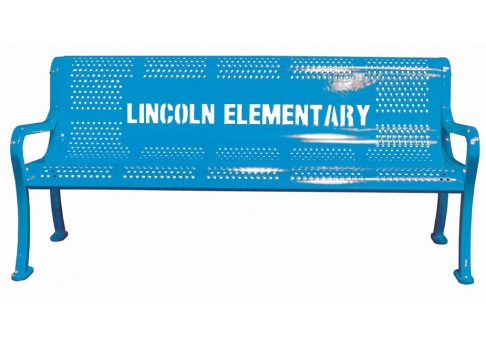 In addressing back to school site furniture needs ahead of time, thoughtful and creative teamwork among school administrators, site designers/developers, facility staff, teachers, students and parents can help in the development of new or existing spaces to reach their full potential. For site furnishings on school grounds to be seen as both adaptable and practical for numerous ongoing activities, the following 4 key components should be addressed.
Functional & Customized Designs
Functional seating that is designed for children and young adults is important to creating an outdoor space where learning and behavioral development can flourish no matter the child's age. Customized designs are a useful design element in school site furnishings and include benches engineered with a school's logo or name and picnic tables modified for any given space in a number of unique styles, sizes and imaginative colors.
Accessible Seating & Equipment
Seating and equipment that is fully accessible is not only a significant component in designing an ideal recreational space, but is the responsibility of master planners to make sure school furnishings meet all local codes and universal regulatory requirements. For example, trash receptacles need to be positioned in high traffic areas that everyone can easily access. The Americans with Disabilities Act (ADA) establishes guidelines for meeting accessibility standards in a recreational setting and details specific procedures for complying with such in children's picnic and leisure spaces. There are a variety of picnic tables that are designed especially for wheelchair accessibility. These wheelchair accessible picnic tables meet ADA requirements and are a great solution for implementing an outdoor space suitable for socializing, learning and fun and games.
Safe Play Systems
Playground equipment is a primary element on most school grounds. A functioning and safe play system makes up a vitally important core part of elementary well-being. Going beyond traditional play equipment is fundamental to combining and instituting safe play with the full spectrum of outdoor learning possibilities. Whether school grounds are located in urban or rural settings, there are playground sets that are capable of accommodating a small, medium or large number of children.
Cost Effective Solutions
New school designs will greatly benefit and reduce the cost of furnishing school grounds by initially having the site developer or landscape architect plan the outdoor space for both education and recreation. In most cases, this will ideally prevent the need for future on-site expansion and only present the need for replacement furnishings at a later date. For established school facilities and school grounds, adding to existing site furnishings is economically more feasible than completely replacing them as long as current site furnishings are still deemed safe. Because school grounds can take several years to develop and grow, integrating new with old is often times seen as a viable and affordable way to renew an older space all-the-while preserving the grounds as they formerly were. This can be an even trade-off and ultimate cost effective solution.