How to Beautify Your Property with Fencing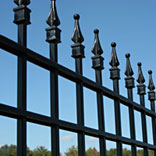 If you have a business, campus, or park that has borders, fencing is the most efficient way to enclose each separate area. That doesn't mean the fencing has to look ominous or unsightly, however. If you choose the fencing carefully, it will be professional, appropriate, and subtle.
Metal Fencing
Most commercial fencing is constructed of either steel or aluminum. While both steel and aluminum offer the same level of security, aluminum is a much lighter metal, making it more practical for some applications. Chain link fencing is readily available at standard heights or can be custom cut to be the height needed for your specific project. Aluminum and steel are metals that lend themselves to sustainability in a multitude of climate variations ensuring that the fence product will last for a long time.
Vinyl Fencing
Vinyl fencing is the lightest weight fencing option for commercial applications and is available in a number of colors. If you do not actually need a heavy metal fence, vinyl fencing offers the security and visibility of chain link fencing, but at a lower price and a lighter weight. Vinyl fencing is also much more flexible than metal fencing.
If you want fencing that will blend into the surroundings, it's possible to make your vinyl fencing almost invisible. After a while, no one will even think about the fencing that is in place. However, the job of adding security and continuity to your property will be done and you can be confident that no matter what type of fencing you choose, you'll be beautifying your property with a bit of extra security.