Best Warranty, Best Price, Best Customer Service. Guaranteed.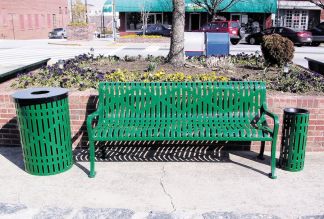 Commercial Site Furnishings offers the best warranty, price, and customer service in the industry. Our team focuses on your site project from start to finish, keeping you updated on production and shipping deadline, making sure your order is right before it ships, and confirming assembly and installation is taken care of.
The Commercial Site Furnishings Guarantee
Best Warranty
The industry's best warranty does more than just give you a peace of mind - it's our commitment to maintain the highest level of durability, service, and quality. The following is a summary of our standard and extended-warranty programs for the products we manufacture and sell to our commercial clients throughout North America:
Our Warranties
1-Year Warranty
5-Year Warranty
7-Year Warranty
Our warranties are based on individual products and are listed on each product presentation page. Our warranties cover repair or replacement on standard use. Theft, abuse, and vandalism is not covered, however, we work with all of our commercial clients in repairing or replacing products that have been stolen, abused, or vandalized by offering deep discounts.
Best Price
From picnic tables to custom logo trash cans, our experienced commercial sales staff guarantees the best price on all projects that are more than $5,000 in total net sales. We take great pride in the low prices and great values we offer to all of our contract commercial clients. We work hard to make sure our site furnishings selection, availability, reliable delivery and superior customer experience work together to create a great shopping experience with the ultimate goal of making your job easier.
We want our commercial clients to feel confident that we consistently offer the greatest savings, while still providing the made-in-the-USA quality that lasts. For this reason, we offer our unprecedented Low Price Guarantee. If you find the identical site furnishing (same specifications: dims, material grade, and weight) you are interested in elsewhere for a lower total price (product price plus shipping and handling fee), we will match the total price + give you an additional 10% of the difference! (Clearance, sale or promotional prices are not included.)
To be eligible for a price-match plus 10% of the difference, your request must meet the following conditions:

Our Price-match Guidelines
Comparisons MUST include the site furnishing price plus shipping and handling charges when calculating the competitor's total price.
Our Low Price Guarantee applies only to distributors or manufacturers that have the identical product (including identical dimensions, weight, and commercial grade rating) and the product is priced accurately.
Total price-match plus 10% of the difference requests must be submitted via phone or email before purchasing from Commercial Site Furnishings. One of our customer service specialists will provide you a discount code for your purchase, once approved.
Please be aware that Commercial Site Furnishings only sells quality commercial grade site furnishings that will last in all types of environments. We do not accept price match for remanufactured, refurbished, or residential grade products (example: residential grade aluminum, painted vs. thermoplastic coated, steel vs. imported metal).
To request a total price match and 10% of the difference of your purchase, simply provide the competitor's total price information (price + any shipping and handling charges), with the weight, the stated grade and a brief description of the site furnishing piece to our friendly commercial sales staff at 800-278-4480.
Only one refund per customer, per order - Thank you.
Best Customer Service
Our dedicated team is experienced in commercial furnishings of all kinds. Whether you are purchasing just one park bench or 200 picnic tables, the level of service, communication, and follow up is the same for each of your commercial projects.
We have provided commercial picnic tables, park benches, umbrellas, and cushions to hotels, resorts, and restaurants. We even provided hundreds of commercial chair cushions for the White House. Many of our commercial clients are companies that reside in the Fortune 100. Our sales team understands the demand for excellence and strives to achieve that goal in every aspect of the customer service process - before, during, and after your project is complete.
Fastest Delivery
Along with our industry-leading best warranty, price, and customer service, we offer one of the fastest delivery lead times on most of our made-to-order commercial furnishings. We can complete your order in as little as 14 working days on most of our top-selling products by having stand-by products in our warehouse ready to be dipped in the color you choose. Most other commercial furnishing sales companies and online retailers average more than 30 days. Just let us know your project timeline, and we will do everything in our power to ensure your products deliver on time.
Call us today for personal service
Call 800-278-4480 for a free quote, including a personalized shipping estimate and free metal and/or color samples. The Commercial Site Furnishings commercial sales team can answer your product questions and help you build a plan that will work best for your school, office, park, or other property.