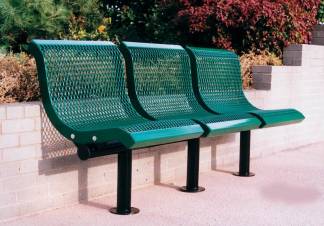 Are you looking for the highest quality steel park benches on the market? Then look no further! Our park benches are made with the highest quality raw materials and are coated with thermoplastic that will protect them for years to come.
A commercial park bench should be built to last for years of enjoyment without looking like it has received years of enjoyment. Our steel park benches are sturdy, durable, and appealing. On top of that, most of our benches carry a 7-year warranty. And because our steel park benches are coated with a thermoplastic material, they will look good through many seasons and wear patterns. And since they come in so many different styles and colors, you can find one to express the personality of your public space.
Commercial park benches must withstand heavy use and abuse from large amounts of people. Often the benches are located in harsh environments, such as intense, hot sunlight or cold winter storms. Heavy use, coupled with a harsh environment, necessitates a well-made commercial bench that is rugged and durable. Toughness is not enough for today's park benches — they must also be visually appealing.
Commercial park benches are often placed in outdoor spaces designed for beauty, such as a park, boardwalk, or zoo. These benches should look good with nature. Some environments are more industrial, such as airports or train stations. These benches may need to coordinate with a color scheme, or otherwise enhance a design feature. The bench should stand out, but not stick out.
Lastly, a commercial park bench should also be comfortable. After all, most people would rather stand or sit on the ground than sit on an uncomfortable bench.