11-Gauge vs 9-Gauge Steel
When purchasing steel or metal commercial furnishings it's helpful to know the differences between steel gauges.
Steel commercial picnic tables come in a variety of styles and strengths, the majority being the more popular 9-gauge along with 11-gauge. Either 11-gauge steel or 9-gauge are ideal for school furnishings like logo park benches and picnic tables in indoor and outdoor areas.
What are the Differences Between 9-Gauge and 11-Gauge Steel?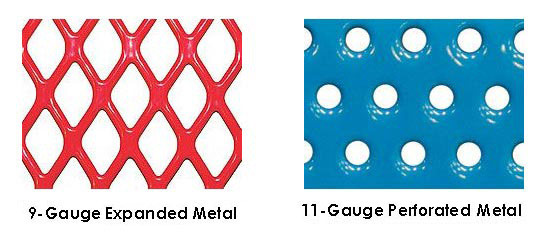 At Commercial Site Furnishings, we primarily offer two styles of steel benches and picnic tables: expanded metal and perforated metal styles. Both styles use the same size steel for the frames, the difference is in the seat tops and backs and table tops. The expanded metal furniture seats and tops are made using 9-gauge steel. This is the style you see on most park benches, bustop benches, public picnic tables, and trash cans.
Our perforated style of steel furniture is made of 11-gauge steel sheets with evenly spaced holes, or perforations. The expanded and perforated styles look very different and most furniture is purchased based on the look more than the weight of the steel.
Why Use Steel?
Outdoor seating and recreational areas typically have picnic tables, metal benches and other seating arrangements to keep guests comfortable and safe. While there are a variety of different materials to choose from when purchasing a seating area, steel tends to be the most durable. While wood commercial furnishings is a great choice and is affordable, they often erode, break down and eventually break, leaving the need for new seating. If your company is considering updating your furnishings or other outdoor seating areas to last many years, steel is the way to go.
Durability
When choosing which material to use, it's important to weigh the benefits and drawbacks of each. While other materials are great, steel is economical and durable. Aside from being affordable, steel commercial furnishings offer a long life with minimal maintenance, which means guests can enjoy the area without constant closings due to maintenance.
Capacity
Metal benches and picnic tables can also provide seating for large groups of children or adults. Made with seats designed to fit children and constructed of thermoplastic steel, these tables make a great addition to a playground or school. Most steel commercial park benches and other seating areas are supported by steel tubing to support the smallest as well as the largest person.
Steel and metal picnic tables are also flexible with the ability to be used in a variety of ways. In fact, many metal benches and picnic tables offer ADA-compliance which are used for those in wheelchairs. These types of metal picnic tables are ideal for recreational areas, like a parks, schools or swimming pools, and can be used by nearly everyone and anyone. These special tables come in a variety of styles and shapes to suit any location. In addition, these tables are made of perforated metal to make them comfortable for everyone.
Style & Color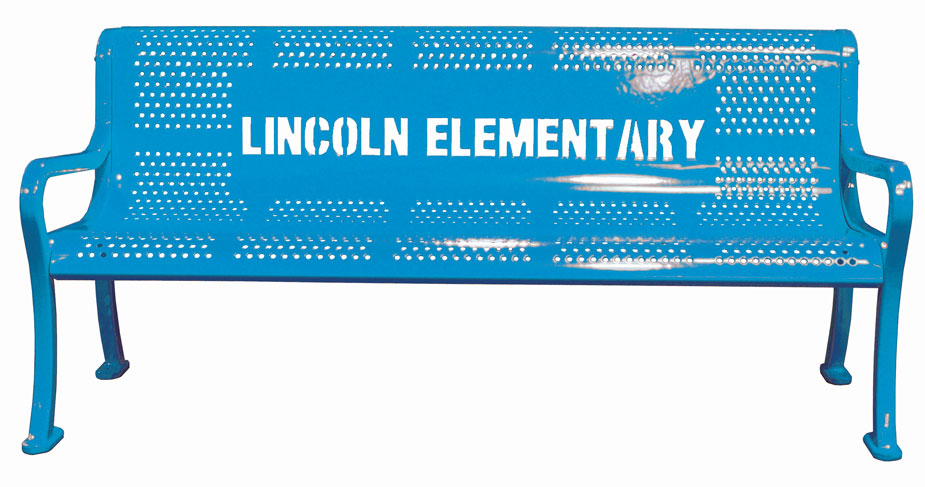 In addition to being useful in a variety of situations, steel makes a stylish seating area for any purpose. Steel can be customized to fit your area, and many types of steel furnishings come in a variety of sizes, shapes and colors to fit your property and design.
Weather-Resistance
Another advantage to purchasing steel commercial furnishings is that steel can now be coated with a thermoplastic coating. The unique thermoplastic coating protects the steel from extreme weather conditions. It prevents erosion and ensures your outdoor metal seating area lasts for years. In addition, the thermoplastic coating provides a more comfortable experience for guests, as it doesn't get too hot or cold. This unique coating also allows for easy cleaning of spray paint and graffiti. The thermoplastic coating also allows for easily choosing the appearance and color of your metal bench or picnic table.
Scratch-Resistance
If thermoplastic coating is not up your alley, you can choose to have a powder-coated metal park bench. The metal is heated to high temperatures, so the powder-coat sticks, leaving the metal bench beautiful and highly resistant to scratches. Both thermoplastic coating and powder-coating options are great not only for comfort, but to also add a bit of color for school furnishings, parks and other areas.
Customize Your Steel Furnishings
Metal benches and picnic tables come in a variety of styles, shapes and coatings to suit your needs. Any of these products would be a great fit for your commercial seating area. In addition, steel picnic tables and benches will easily fit into existing decor or add a bit of color to outdoor areas. These steel commercial furnishings can also be designed to fit everyone from small children to those in a wheelchair.
Give Your Property An Upgrade
If you've been thinking of upgrading your school, office or park furnishings, there are many metal picnic benches or park benches options available. These benches can easily be customized for any height, strength, color; and coated with either thermoplastic or a power-coating to ensure it remains beautiful and sturdy for years to come.